Place A Free Memorial   – We know that many people in the UK and throughout the world could benefit from our on-line obituary notice service and by being able to express their feelings for their loved ones using our memorial tribute facility. We want as many people as possible to be made aware of our service – and to have the opportunity to place their thoughts on the web site. … Continue reading →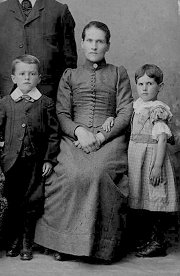 We remember our mother as a very quiet lady, whose life was a constant struggle. She always tried, when times were hard, to do the best for her three children. During the Second World War, food became scarce and rationing was implemented, she still managed to keep us all going. We use to work on the land, picking peas, potatoes, and sometimes fruit. This extra effort, and money, made a difference to our lives.
The photograph top left is of Amy as a young girl with her Grandmother and brother Arthur.
In 1943 our younger sister, Rita, was taken ill and died. This was the beginning of the end for Amy, she gave up. Due to a broken heart and eventual ill health she died prematurely at the age of 51. Her surviving children were Dennis, who was 22 at the time and Audrey, who was 19. Read more…
After gaining a degree in Fine Art at Exeter College of Art, Peter Bright worked in a design and print studio. Moving back home to rejoin, and finally run his family's Monumental business in Worcestershire. During 1998 he made a … Continue reading →
This service is free Policies The information contained in this Site is for general interest only. Given the changing nature of laws, rules and regulations, and the inherent hazards of electronic communication, there may be delays, omissions or inaccuracies in … Continue reading →
Related articles